January 18, 2023 by Chris & Ramona
We built a sunroom with Backyard Paradise in Summer 2022. What an incredible experience! Excellent customer service, friendly staff and the sunroom itself is gorgeous!
November 22, 2022 by Victoria & Suzanne
We had a great experience from start to finish with Backyard Paradise. Roger and Jane were fantastic to work with, kept us informed and answered all of our questions in a timely and professional manner. The build team was also amazing. So much attention to detail and pride in their work. The results were stunning. We love our sunroom. We had the opportunity to enjoy it for most of the fall and cannot wait for next summer. We will practically be living in it. Roger also referred us to our amazing landscapers. Good professionals know other good professionals. Our yard went from a new build mud pit to functional and beautiful.
Everybody who sees it can't believe that it wasn't part of the original build because the trim and sleek design match so perfectly with the rest of the house.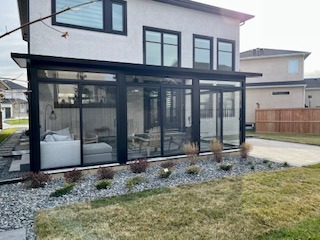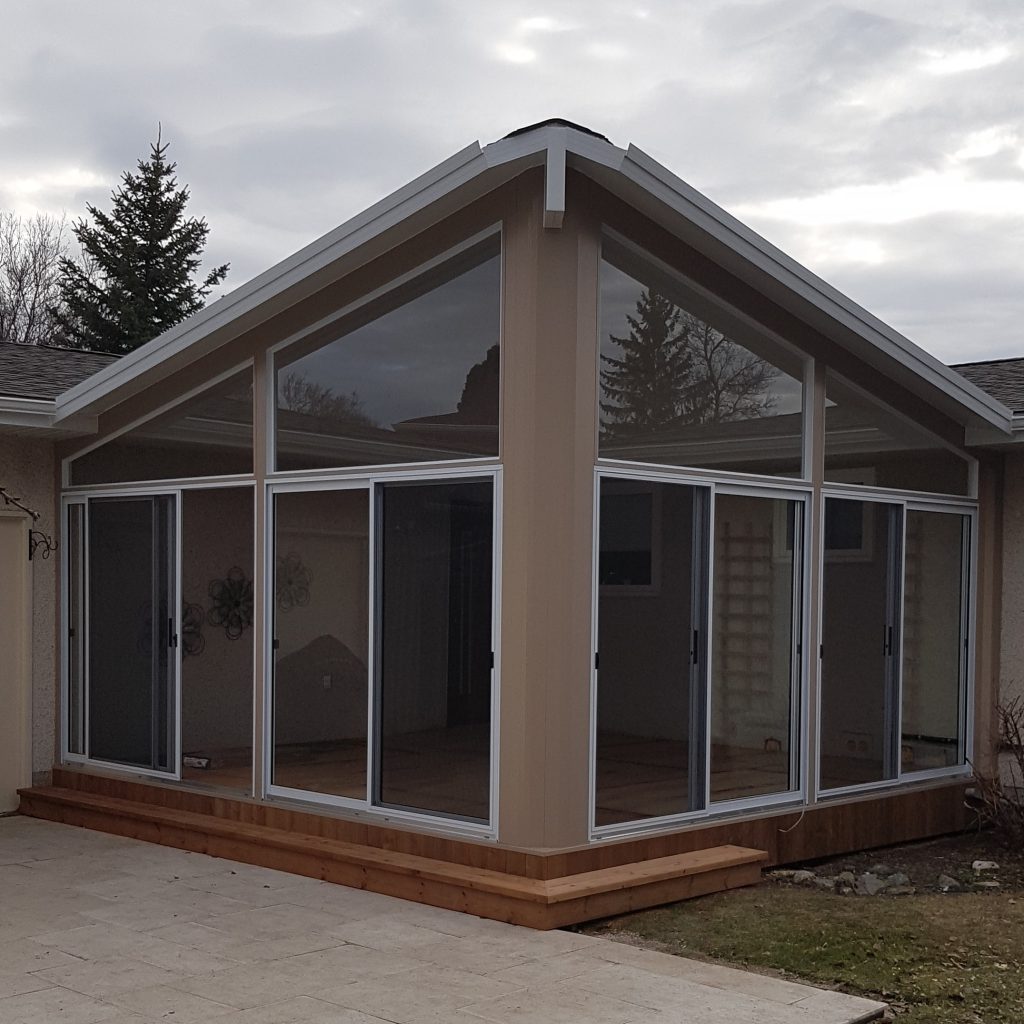 June 2, 2022 by Chuck & Marlene
We absolutely love our sunroom from SunCo. It's our little patch of paradise! Far exceeded our expectations! If you want the best, they're the place to go!
May 31, 2022 by Bryan & Inga
Fantastic team and excellent build! The team had many obstacles to deal with along the way and they overcame all of them, keeping us well informed throughout.
It was a pleasure to work with SunCo! We absolutely love our sunroom & awning!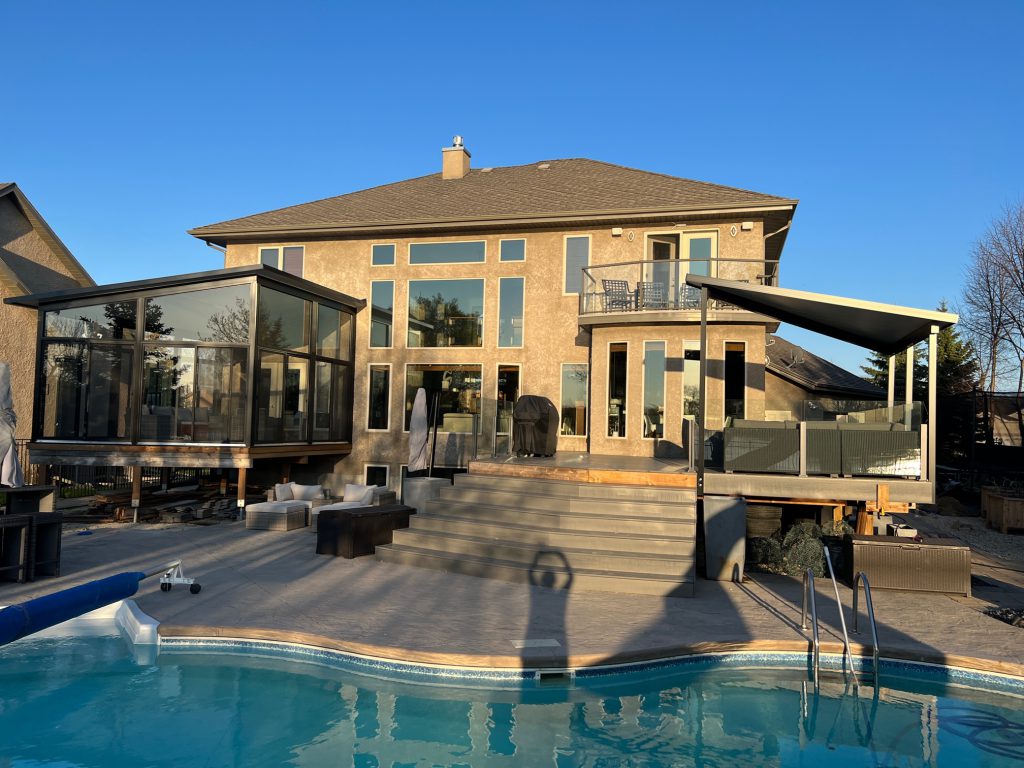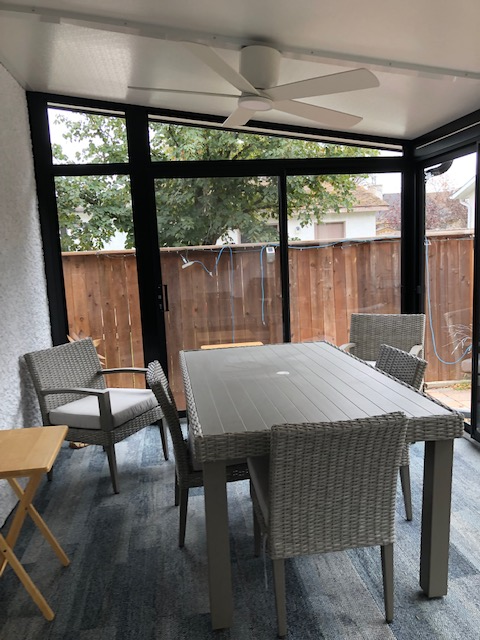 March 1, 2022 by Harry & Darlene
We are so pleased with our three season sunroom! Owen provided us with the design, walking us through all the steps. We liked the idea of "one stop shopping."
We were so impressed with the building process. Patrick and Brandon did an incredible job of installing the sunroom! They were so kind and patient with our many questions! Thanks to Russ, our electrical needs were met. Jane and Hannah kept us up to date with the timeline.
Dealing with everyone was such a positive experience! Our sunroom is beautiful and we look forward to many years of enjoyment!
Thank you to everyone there!
February 16, 2022 by Arvid & Janice
Roger gave us what we wanted for a new sunroom. We had a screened deck, he drew up plans (plus plans to fix the roof leaking down the wall…) and we are were very happy with them! He knew what we wanted and was very helpful!
The office staff kept us informed when the sunroom would be started. As for the install team, the were very efficient, very polite, cleaned everything up showing no evidence a mess was ever there. There were some very hot days, but that didn't stop them, they worked hard!
We are very happy and pleased with the new sunroom! It is very sturdy, secure, love opening the screens on a nice summer day with a breeze flowing through! It is great for entertaining inside white the bugs are outside. Our two rag dolls love their new home, they are in there from morning till night! A few neighbours have seen what we've done and they'll hopefully have some ideas to have one in their backyard.
PS. Backyard Paradise was the first quote we got, we were very impressed with Roger and his presentation. We did not need to look for other quotes. We are very pleased with Roger and his team!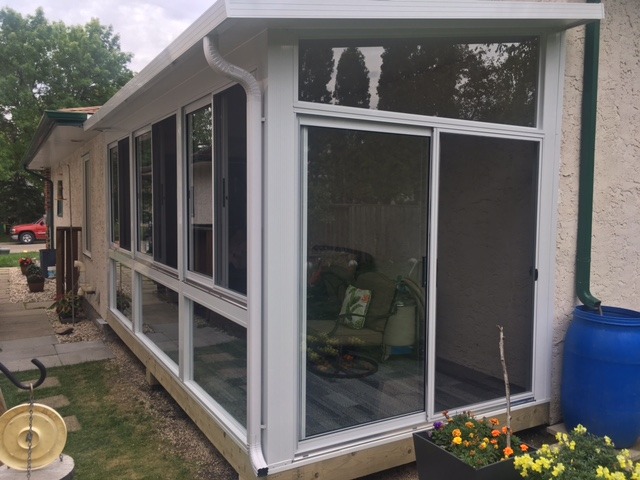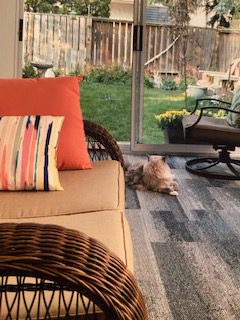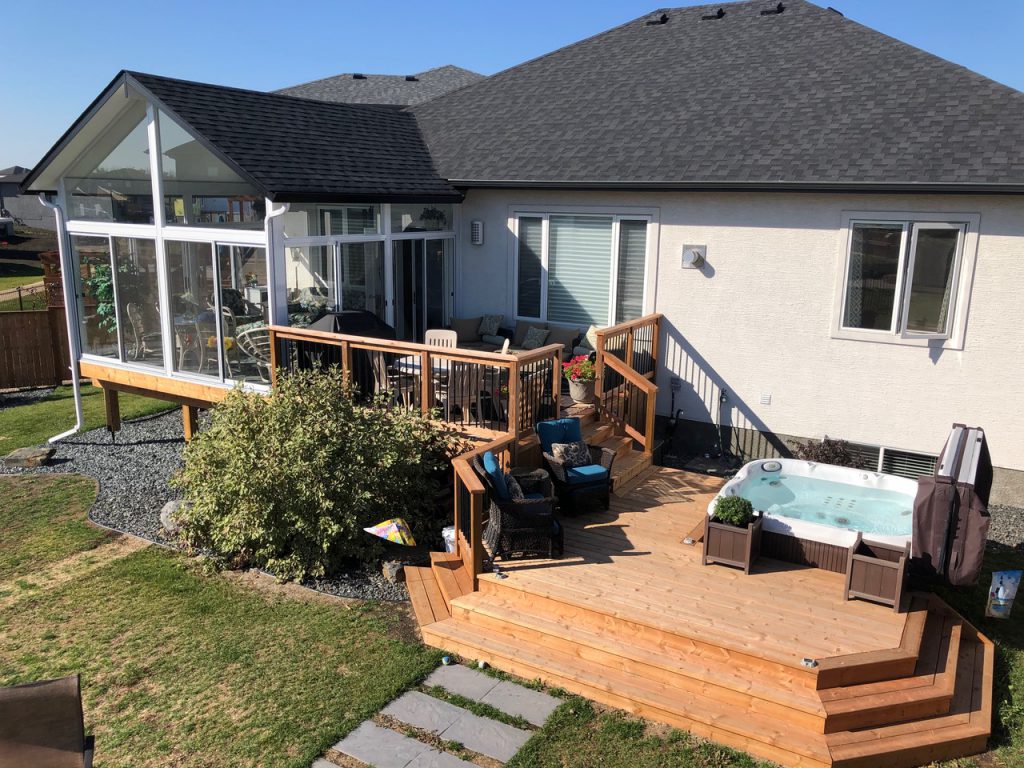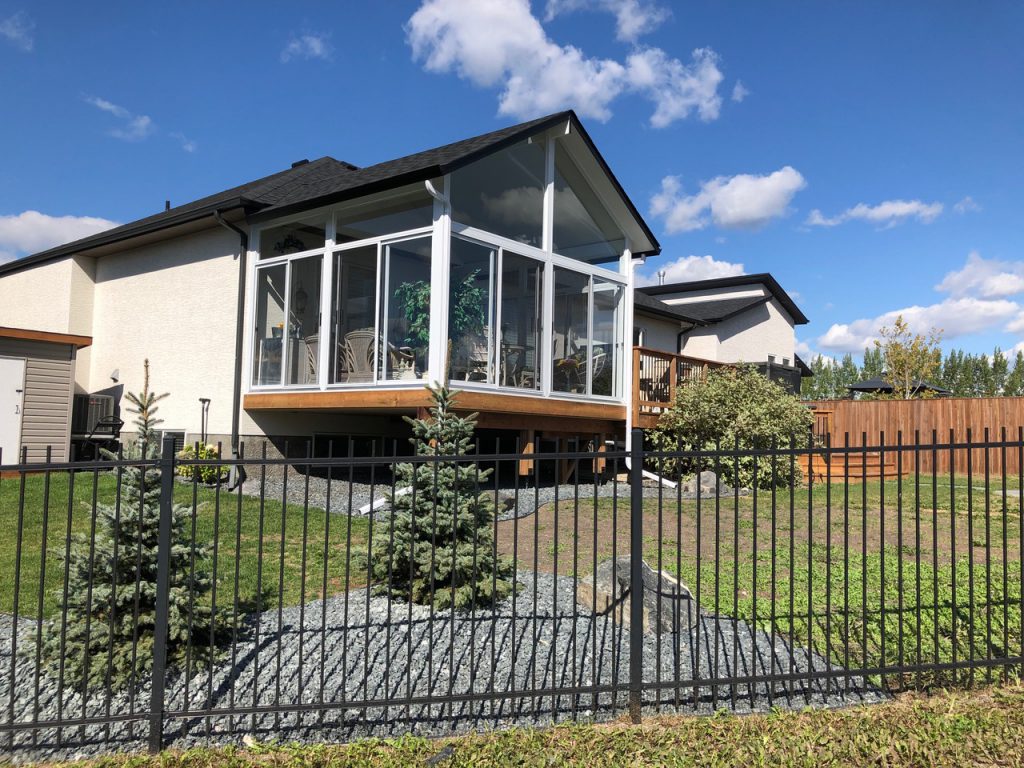 November 3, 2021 by Rob & Susan
We are so happy we selected Backyard Paradise to put a SunCo addition on our home.
We had experience having 2 sunrooms built on 2 previous homes by other companies, so we had some very specific design requirements and high expectations of a top quality first rate product. We wanted a room that integrated into our existing house roofline with the same pitch, shingles, and finish. We also wanted to incorporate a good portion of our existing deck. After our first meeting with Roger, we were convinced this would be a great investment in our home and lifestyle. Roger listened to our specific requirements, which resulted in us getting the room exactly as we wanted it.
The Backyard Paradise team were exceptional to work with, and extremely knowledgeable about their product, manufacturing, and installation. There was a mixup by the city with our variance permit, which was dealt with quickly as soon as it was discovered. We were particularly impressed with the construction by the team of Dave and Brad. They were careful and deliberate in the construction and were dedicated to our project everyday from the job start to end. They were personable, knowledgeable, respectful of us and our property, and were always willing to answer our questions about the structure or progress.
As I was doing the electrical and deck work, Dave and Brad were exceptional at communicating and coordinating with me to insure our respective parts of the project kept moving forward, so neither of us were held up waiting for the other. They also completed a full 2 days earlier than planned.
We know we have made a great decision to build a Backyard Paradise addition to our home and we know we will use and enjoy it for many years to come. We've been recommending a Backyard Paradise addition to all our friends, neighbours, and family. Thanks Roger, Dave, Brad, Jane, and Hannah.
October 31, 2021 by Jim & Janine
All of our expectations were met by SunCo. Patrick was very professional and cleaned up the work site every day. The final cleaning of the entire site and all the windows inside and out was appreciated as well.
We chose SunCo due to the detail of the quote and the time spent by Owen from the initial to install. Fit and finish of the black aluminum was excellent.
We are happy with the final product and know they will stand behind it should we have any issues.
Job well done!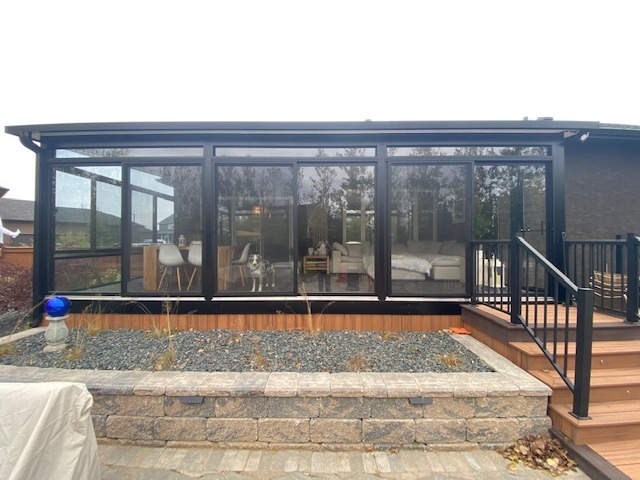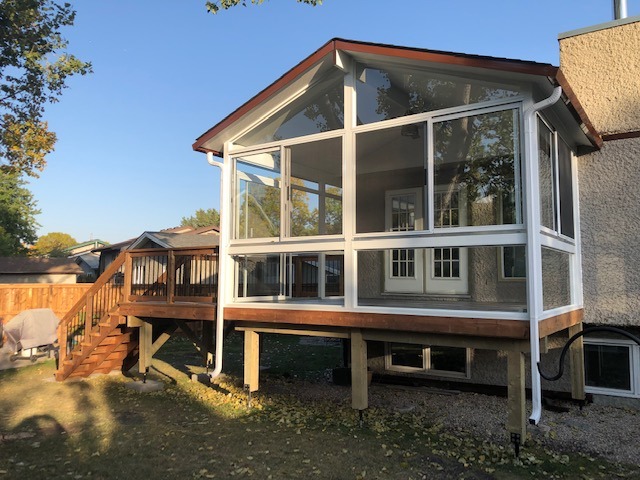 September 30, 2021 by Brad & Heidi
We are beyond ecstatic!!!
Your crew, Patrick & Brandon were absolutely amazing!!! The dedication, long days, and attention to detail was second to none. We have never experienced such pride in workmanship. It was almost like having family in our backyard, they were extremely polite and patient in answering any and all our questions. We were sad to see them go… although it meant our sunroom was completed!!!
The office was amazing to deal with, we really appreciated the update phone calls from Hannah and Jane letting us know what was going on, checking in on us to see if we had any questions. We were kept in the loop the whole way through. As a company and as a team, we were provided with exceptional service!!!!
We would HIGHLY recommend Backyard Paradise by SunCo!!!!!
September 20, 2021 by Drew & Irene
Being a retired military member, I appreciate coordinated teams who complete tasks through detailed planning and efficient execution; I believe Backyard Paradise to be such an organisation. That said, the main milestones of our project were as follows:
January 2021 – Initial meeting with Roger at our home where he took our vision and reduced it into a scaled drawing on graph paper (my wife and I envisioned a sunroom to be built on our existing two-tiered wrap-around deck to include a 14′ cathedral ceiling on the upper deck and little to no obstruction of the current sight lines from our home's backyard windows.
February 2021 – Following various confirmatory and administrative meetings, Roger provided us with a PDF 3D drawing package for review. Due to it's high quality and, most importantly, it's complete grasp of our vision, we happily approved it! And,
June to July 2021 – Dave and Brad constructed our three-season sunroom. During this phase, they demonstrated meticulous attention to detail, producing a high quality end product (throughout every phase of this process, Jane, Hannah, and JP assisted, from keeping us up to date to mitigating unforeseen problems).
As a result, my wife and I feel blessed to have chosen Backyard Paradise to build our three-season sunroom; a sunroom that is sure to enrich our lives long into retirement. In the words of one of our neighbours, "I didn't know that you could get three-season sunrooms like that. Amazing!"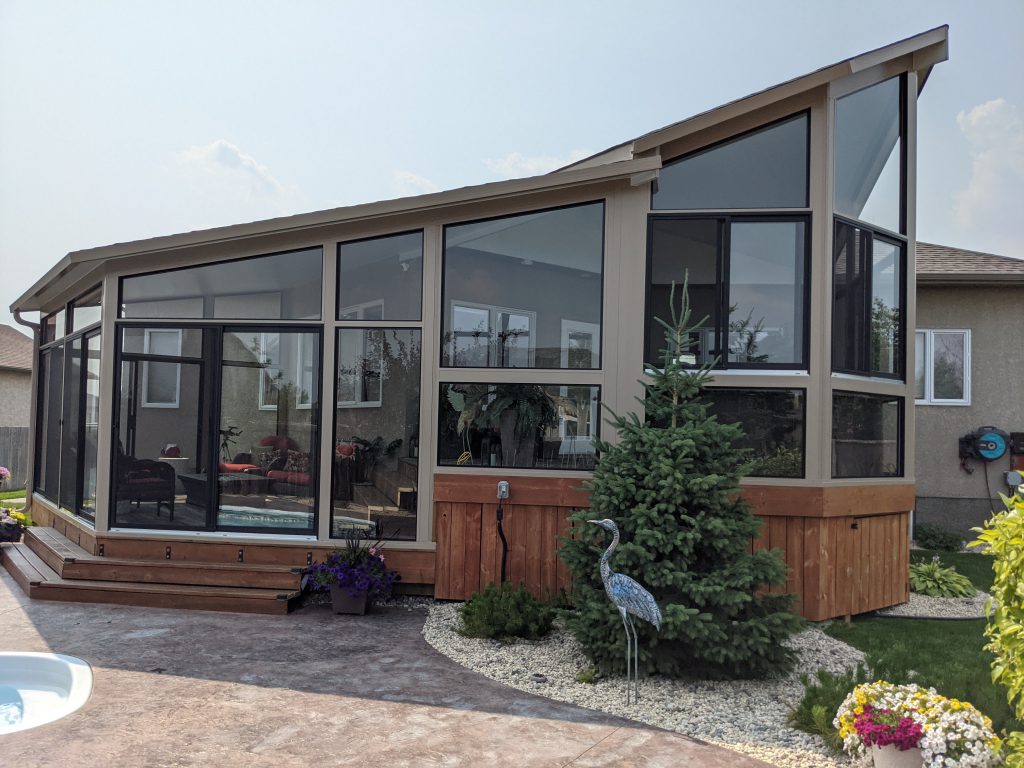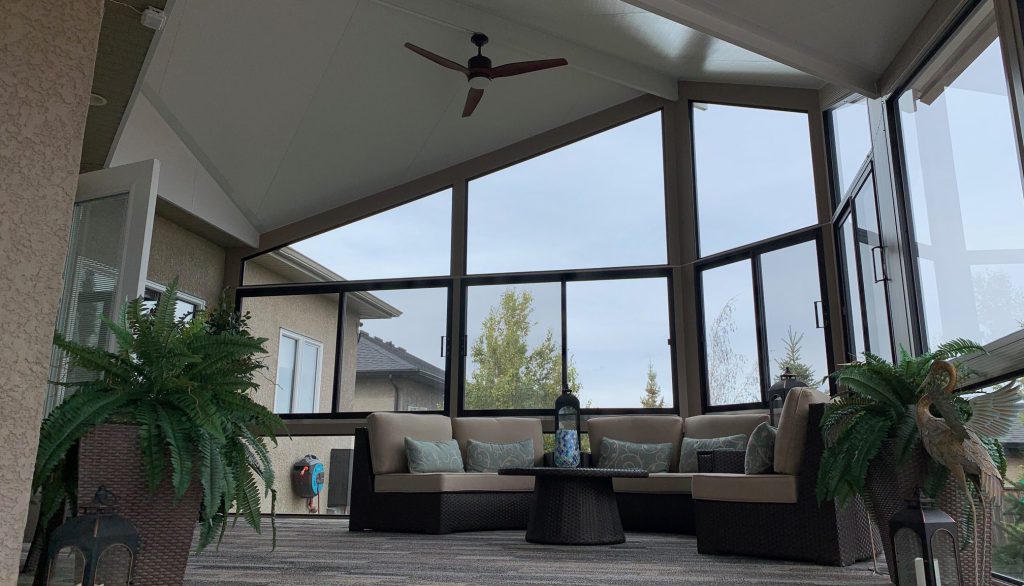 September 16, 2021 by Ed and Eliana
Thank you Roger, JP, Erwin, and Mark for the fantastic job you did with our new sunroom! From design to installation, the whole process was professional, smooth, and on schedule. Thank you also to Jane for facilitating the permits and the follow-ups with the City of Winnipeg.
It truly is a beautiful new space for us and we have enjoyed it's daily use for the last three months. Well done. It has been a great experience.
September 1, 2021 by Luc & Shawna
We are very impressed with our Backyard Paradise, we love it even more than we expected, it is an awesome addition to our home!
The workmanship is beautiful, the contracting team were professional, knowledgeable, approachable, and very organized. The office team were there for us to answer questions and the entire team made this project stress free!
Thank you all for our beautiful sunroom!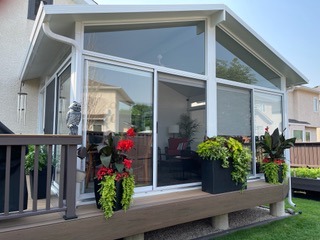 August 12, 2021 by Bob & Rae Ann
We are so pleased with the final results of our three season sunroom! It was built in March 2021 and we have enjoyed it almost everyday since! Roger was extremely helpful with all the permitting requirements and the workers were very professional and efficient. 
The sunroom has certainly improved our home value, beauty, and square footage. We look forward to many years of enjoying our sunroom, as does our dog who has his very own doggy door now.
August 9, 2021 by Paul & Nancy
We have enjoyed our sunroom daily from the moment it was completed in February. Roger and his team made the process seamless, design to completion and we can't thank them enough for a job well done! They were able to custom design it to our specifications and our neighbours have commented on how it appears as if it was part of the original design of the house.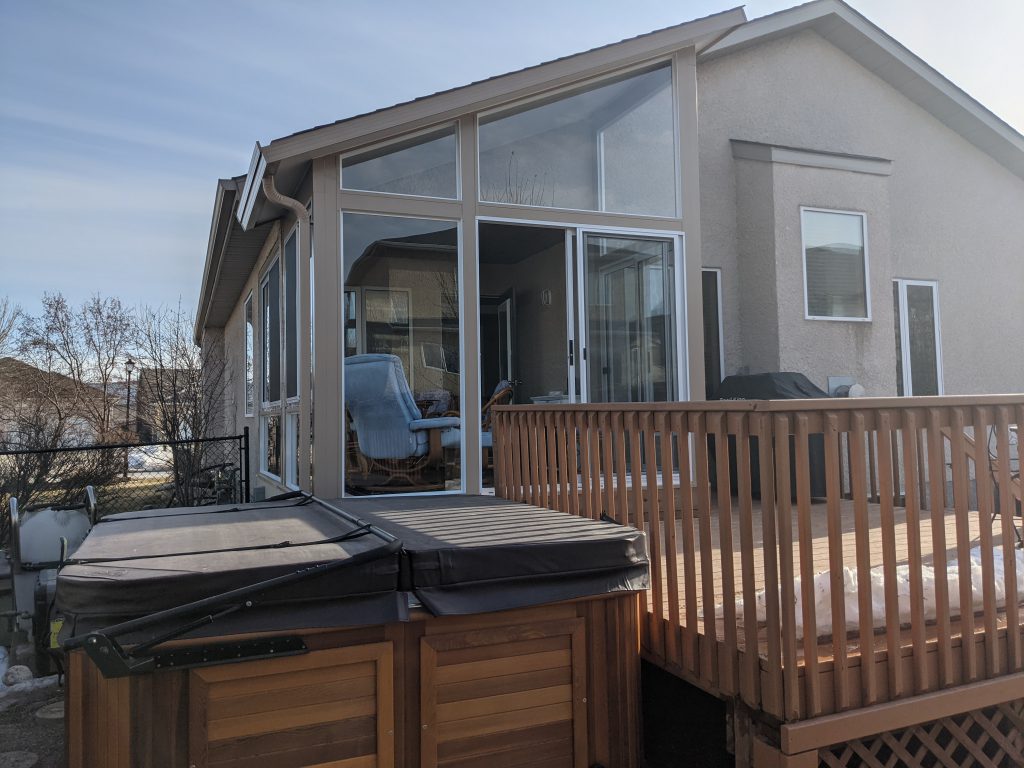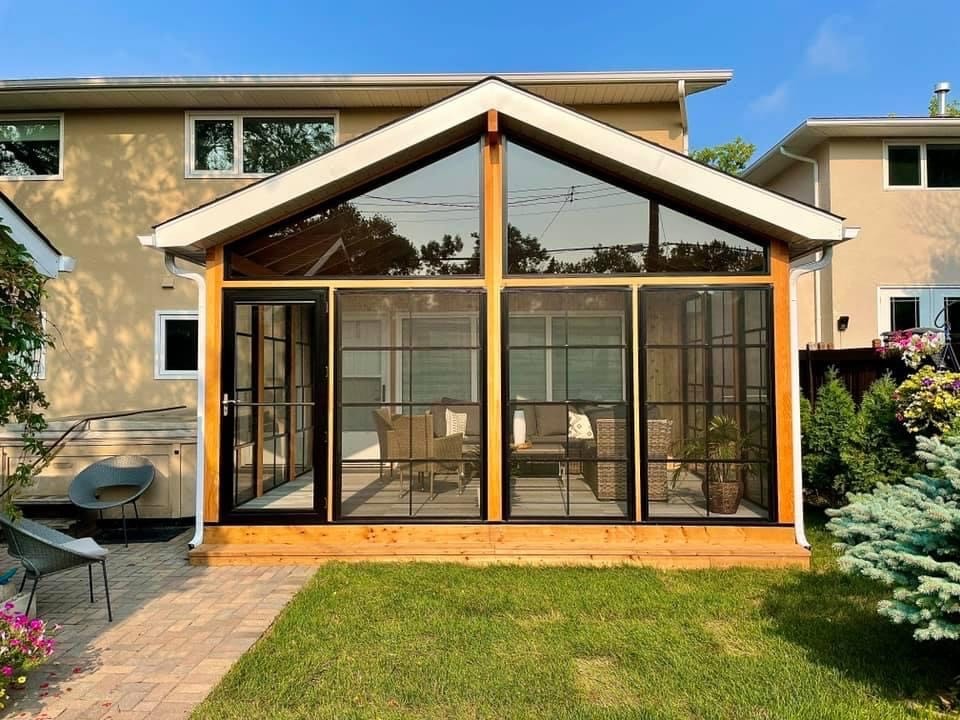 July 22, 2021 by Frank & Candice
OUR NEW FAVOURITE HAPPY PLACE!😁😁😁
Our sunroom addition turned out so amazing! Very impressed with all who helped make this vision turn into reality. Thank you Backyard Paradise who was extremely detailed, patient, and provided excellent communication through the entire process. Wonderful workmanship!
We will enjoy this room for years to come and look forward to many family memories. Ahhhh…..relaxing!❤️❤️❤️
July 7, 2021 by Jerry & Doris
This past spring we had our sunroom built by SunCo. We are loving it!
The quality of the sunroom is exceptional and the hard working installers were professional and friendly.
We would happily recommend SunCo to our friends and family.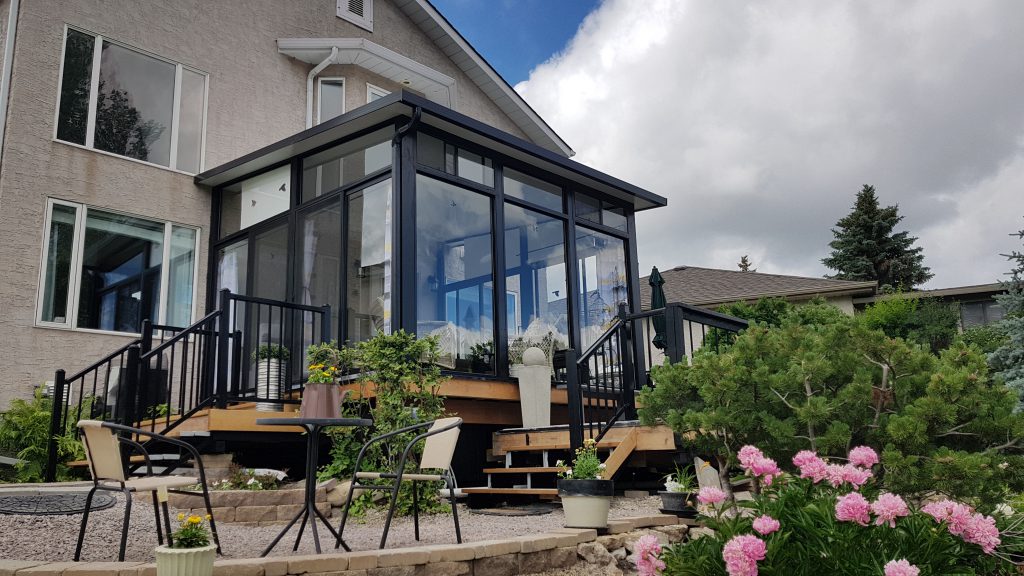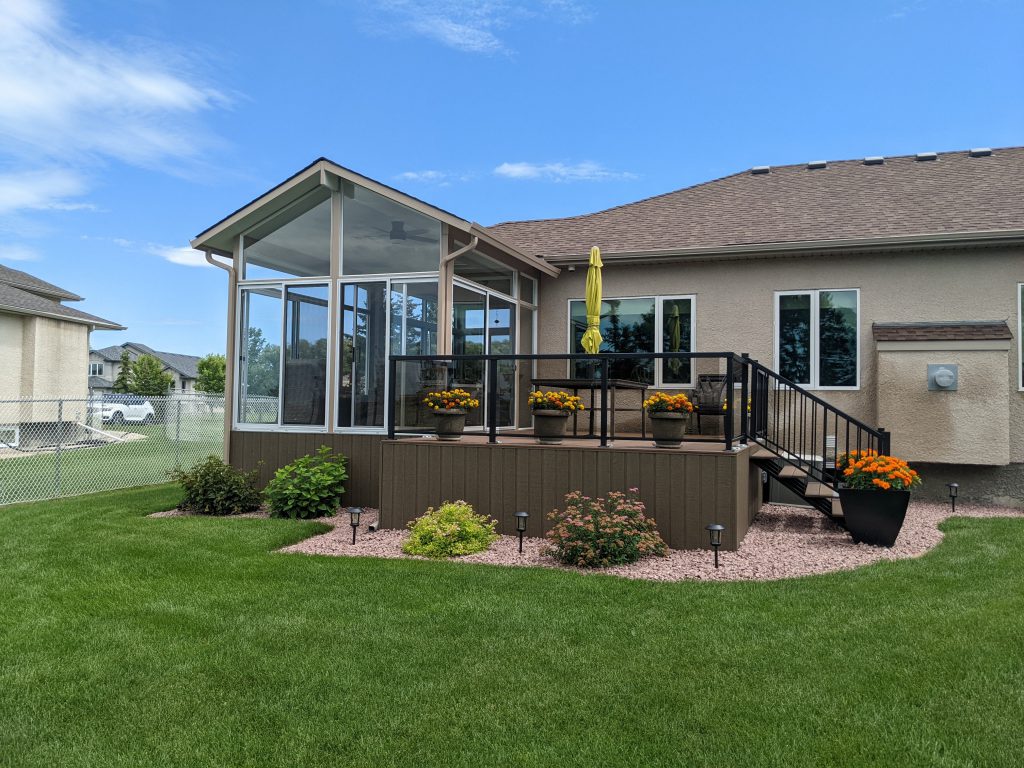 June 25, 2021 by Jerry & Lynne
We just had our 3 season sunroom extended. We contacted Roger from Backyard Paradise. We wanted the addition to look like it was apart of the house from day one. After meeting with Roger, he put a design together and sent it to us. We decided to go with him.
The new 3 season addition turned out fantastic! Thanks to Roger and his crew for making this happen. Everything turned out perfect!
We would also like to thank Patrick & Brandon for all their hard work in making this happen. You guys were willing to answer any questions.
We are very happy and would recommend this company to anyone!
February 1, 2021 by Lynne
I just recently had my sunroom installed by Backyard Paradise/SunCo and I couldn't be more pleased. Roger Beaulieu and his team were excellent to work with. The team was well organized and always willing to answer all my questions.
I would highly recommend this company to anyone looking to install a sunroom.
Thank you 
 for my beautiful room.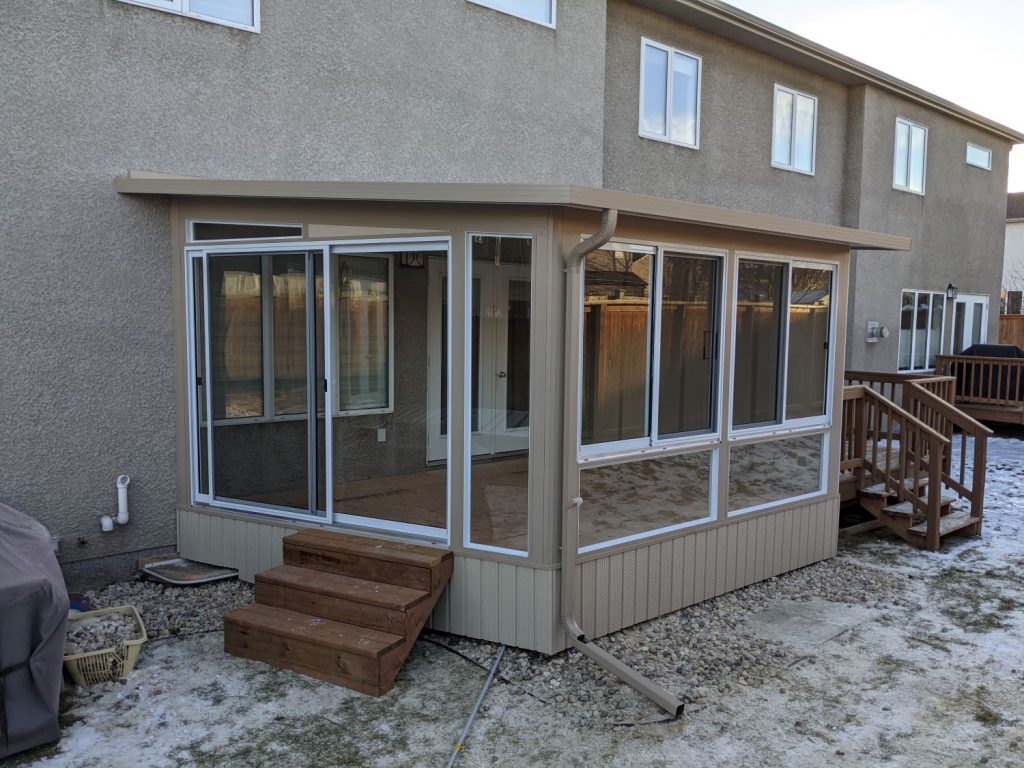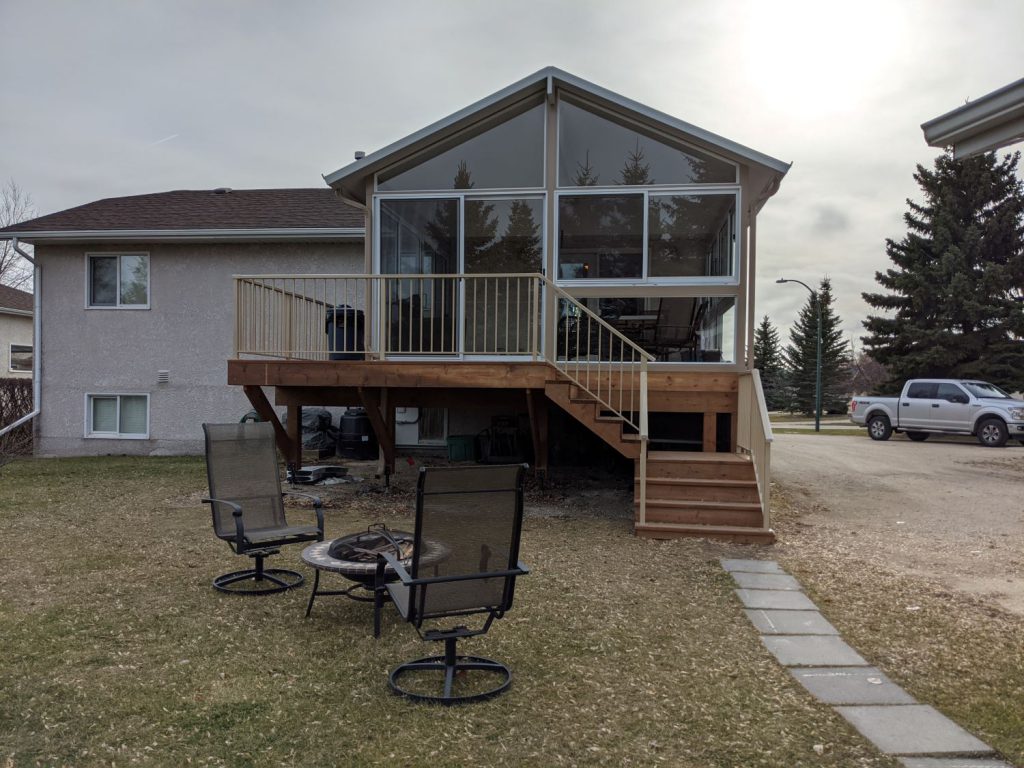 December 4, 2020 by Warren
We just got our new sunroom installed this fall in Stonewall. Roger and his crew were great! From start to finish, all details were looked after . We would definitely recommend that anyone considering a new sunroom look into Backyard Paradise for their project.
October 1, 2020 by Kar & Kevin
I am so impressed with our new sunroom by SunCo that I may even consider going into business with this company! The first visitors to see our new room booked an appointment with Owen the following week to get an estimate for their home. They seem to sell themselves! The room is a beautiful addition that not only increases our time spent enjoying the outdoors by bringing the outdoors inside but has clearly increased the value of our cabin. We shopped several companies before concluding SunCo had a clearly superior product as well as a very knowledgable and professional sales team that was able to come up with a plan and design that was something we hadn't envisioned originally but was absolutely perfect for our home. Their construction team was beyond efficient and did not cut corners. This company is a perfect example of "you get what you pay for" and we find it to be money very well spent. I highly recommend using SunCo for your sunroom contractor and remember. They will help you design the room that is perfectly suited to your personal needs at a price that suits your budget. My purchaser's tip: don't skimp on the size. It's true what Owen told us when he said "no one has ever said they wished they had gone with a smaller room" lol. And the black color option is STUNNING.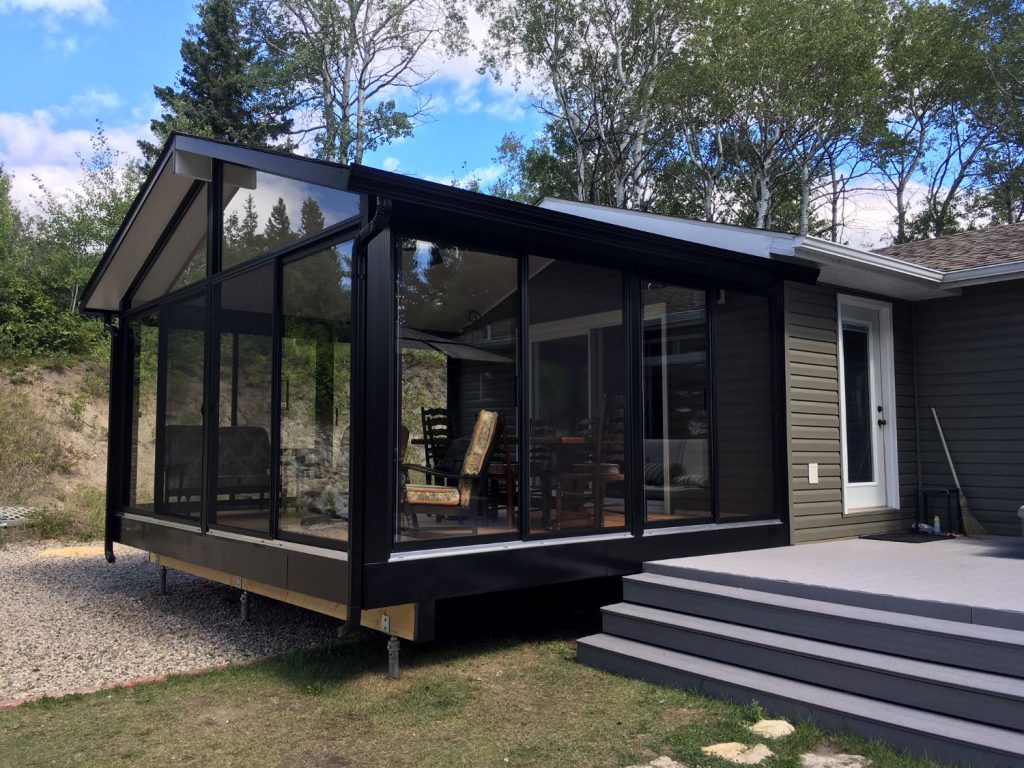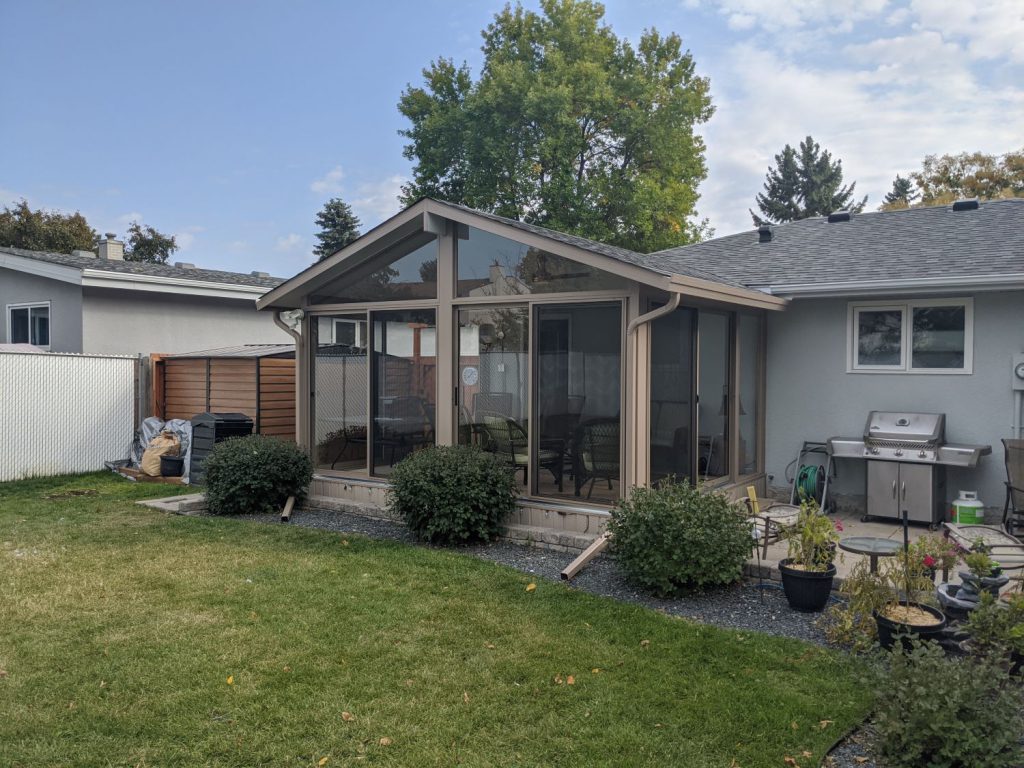 September 21, 2020 by Gloria & Rick
We've just had our 3 season sunroom completed by Backyard Paradise/Sunco and couldn't be more pleased with our decision to select them as our contractor!
Roger, Jane, Dave & Brad were excellent at providing us with the initial consulting and eventual design and build.
The new sunroom already seems like it was always part of our house.
Thanks so much Roger & team. We would highly recommend you to any of our family & friends.
September 16, 2020 by Jason & Val
Our experience with Roger and the team at Backyard Paradise has been exceptional. Right from the beginning design to the completion of our beautiful room it has been amazing. This looks like a natural extension of our home and we will enjoy for years to come. The quality of the product and the service we received are the best! We would recommend to anyone wanting to add a beautiful 3 season room to add a wonderful new living space!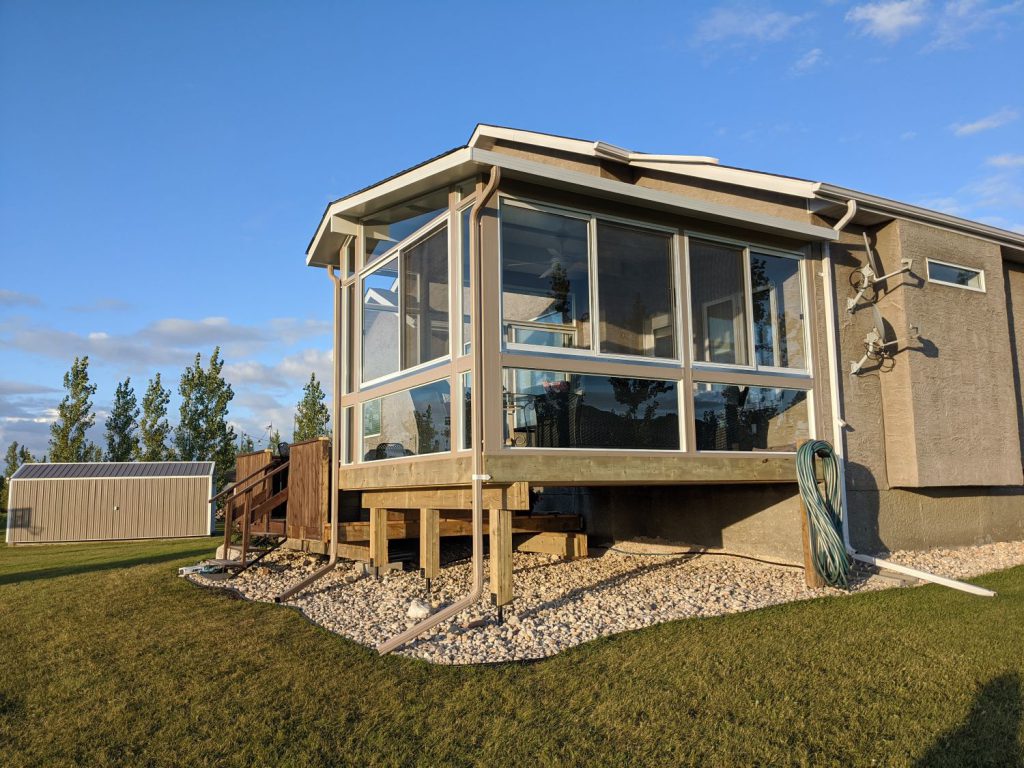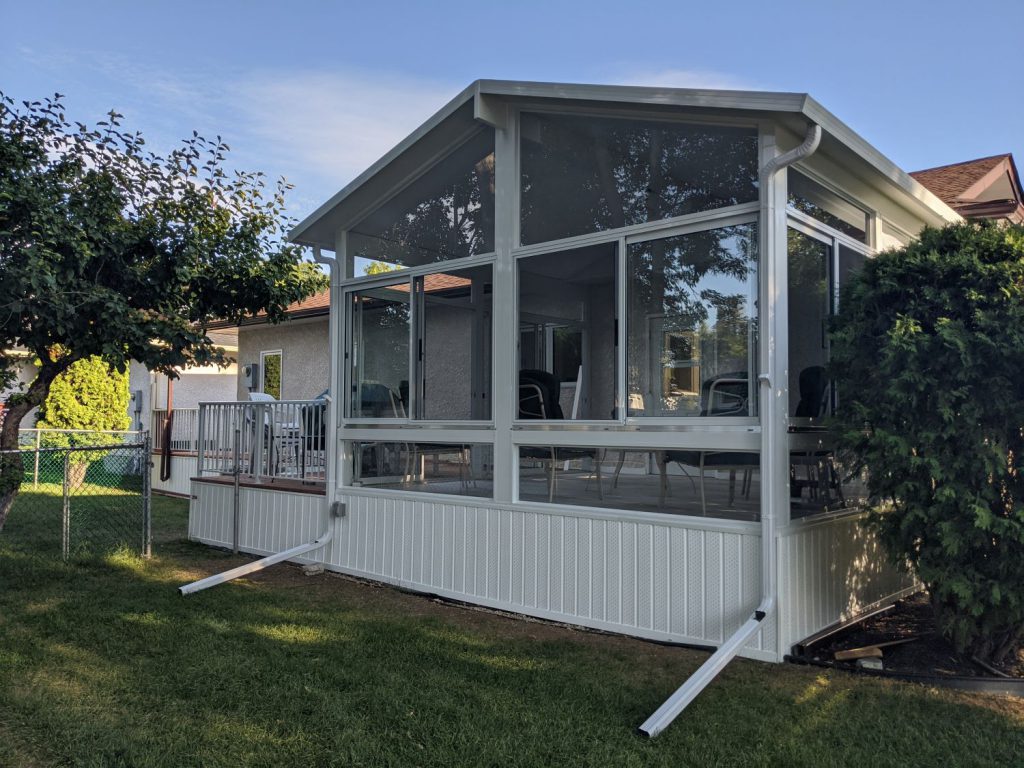 August 22, 2020 by Stan & Carla
Roger, Jane, Derek, John, Russ, Patrick, Brendan and Will and others all made our dream of a sunroom become realized. We are truly appreciative for the concern and attention paid to all of the situations which arose during the installation process. Roger was flexible when accommodating all of our requests and was very responsive when fixing anything that needed adjusting or straightening out. Overall the construction went smoothly (we had great weather handed to us) and any follow ups were taken care of right away. In short, we were treated with great service and respect. Thank you, thank you to Roger and all of the Backyard Paradise crew. Job well done!
Roger and his crew have been totally top notch since the beginning. The workmanship is amazing. The sunroom is high quality, the new deck skirting is beautiful and exceptionally well made and the new railings are spectacular. Everything was done in a timely professional manner and I am beyond pleased with the whole experience. I'm a very happy customer!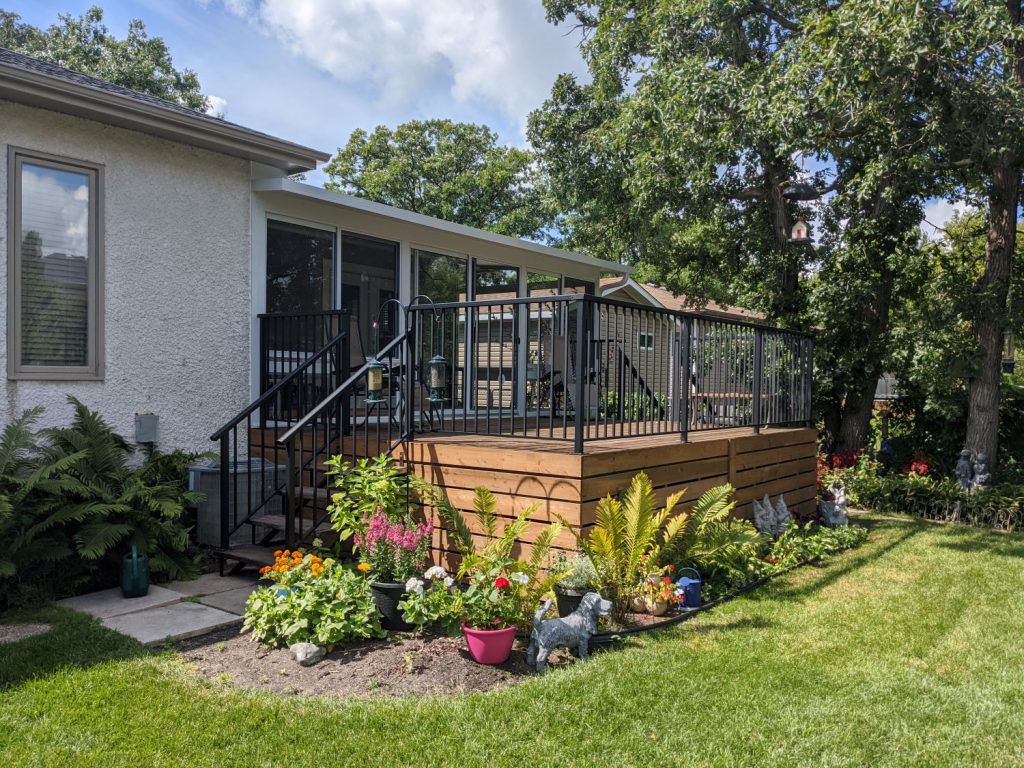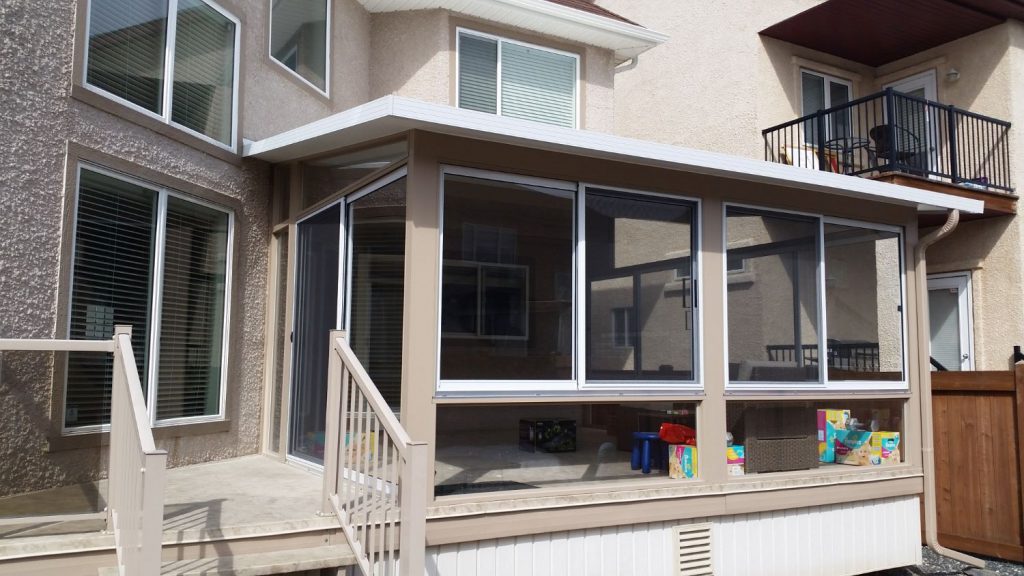 We met with Owen in Fall of 2017 and was very impressed by Owen's service and attention to detail. Their showroom provided some good examples too of the quality and craftsmanship of their sunrooms – and we ultimately decided to go with Sunco rather than a competitor. Owen's team prepped our existing deck in the Fall and built our sunroom in the winter months as planned. The handy gents also helped provide lasting solutions for a couple of unexpected items (extra step required for deck and additional railing to fill a gap). During the first Spring, had some water seep through (not sure how), and they sent someone down ASAP to check on it (never happened again). Another small maintenance issue this year and Owen was incredibly quick to get back to me and helped me fix the issue. Our 3 season sunroom is now one of our favorite rooms in our house and we cannot recommend enough! Why wouldn't EVERYONE invest in a sunroom ??? That's the question. We absolutely love it! Thank you Owen and your team for your service and for making the sunroom experience wonderful for us. We have recommended to all our family and friends and the ones who also added a sunroom love theirs too!
Roger and his crew were amazing from day 1! Our project was a redesign of an existing screenroom to a 3 season sunroom. Roger was on time and on budget. His professional demeanor and level of expertise were top notch from start to finish – a pleasure to deal with. We would recommend Backyard Paradise by Sunco hands down!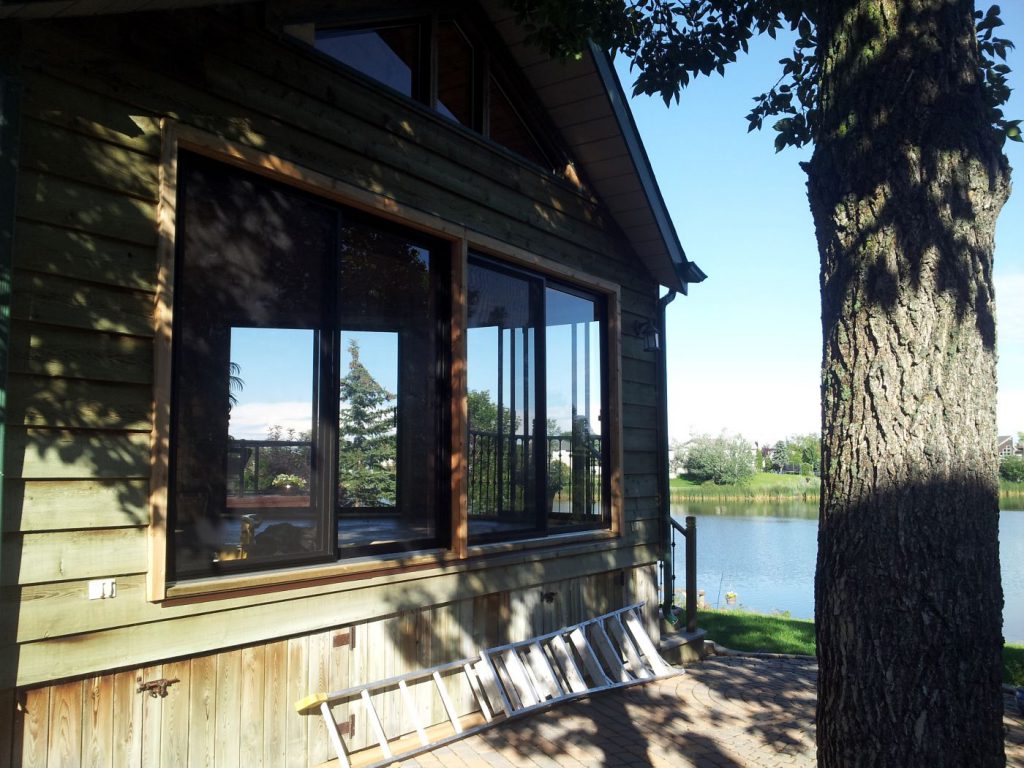 May 3, 2020 by Karen And Michael
Roger and his amazing team built a sunroom for us last June on time and on budget. I am out here today watching a pretty violent windstorm and there is not a whisper of wind inside our 3 season room. It is almost surreal- like being in the middle of a storm but in perfect comfort. Rainstorms are also fun to watch. Our dog loves it too- it is by far our favourite room in the house.
Thank you Backyard Paradise- we will never move from this home- and if we do- hope the personal care home our kids pick for us has a Backyard Paradise room.
October 28, 2019 by Colleen
Thank you Backyard Paradise for creating a space my entire family can and do enjoy. I could not be happier with the entire project – it was completed on time, within budget and with perfection.
Roger and his team Gary, Patrick and Brendan were very respectful and patiently answered my many, many questions. Their combined skills and abilities have created a very special space for me to enjoy, I call it my "Happy Place."

I highly recommend Backyard Paradise for your project.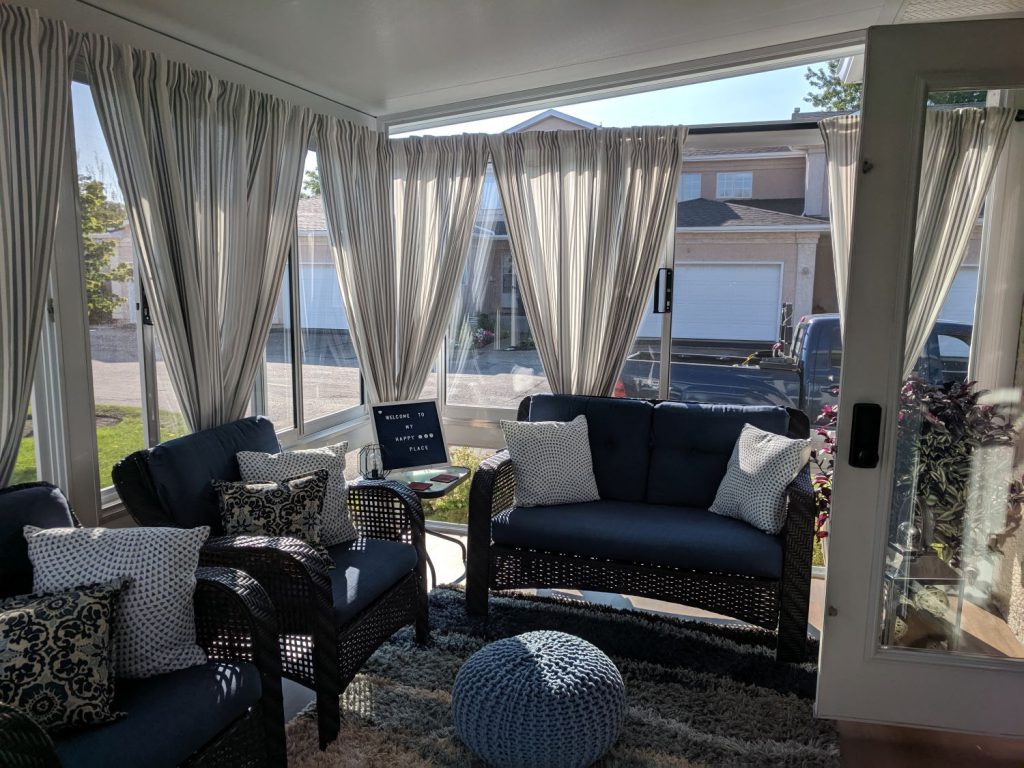 September 21, 2019 by Peter & Dagmar
We could not be happier with our Backyard Paradise. All of our dealings with the company were professional, courteous and respectful. Roger answered all of our many questions quickly either through e-mail or telephone. The installation was started on time and finished within the promised date. Patrick and Brendan were an outstanding installation crew and again answered any of our questions throughout the process. The finished product is everything we wanted it to be and we've been in it just about every day! Thanks to Backyard Paradise for a job well done.
July 21, 2019 by Rob & Tanya
Contacted Roger in the spring. Had a few consultations, measurements taken and sunroom manufactured and built in a few short months. Friendly, professional service. Follow up service quick and friendly. Very good value for our money. We would highly recommend using Backyard Paradise.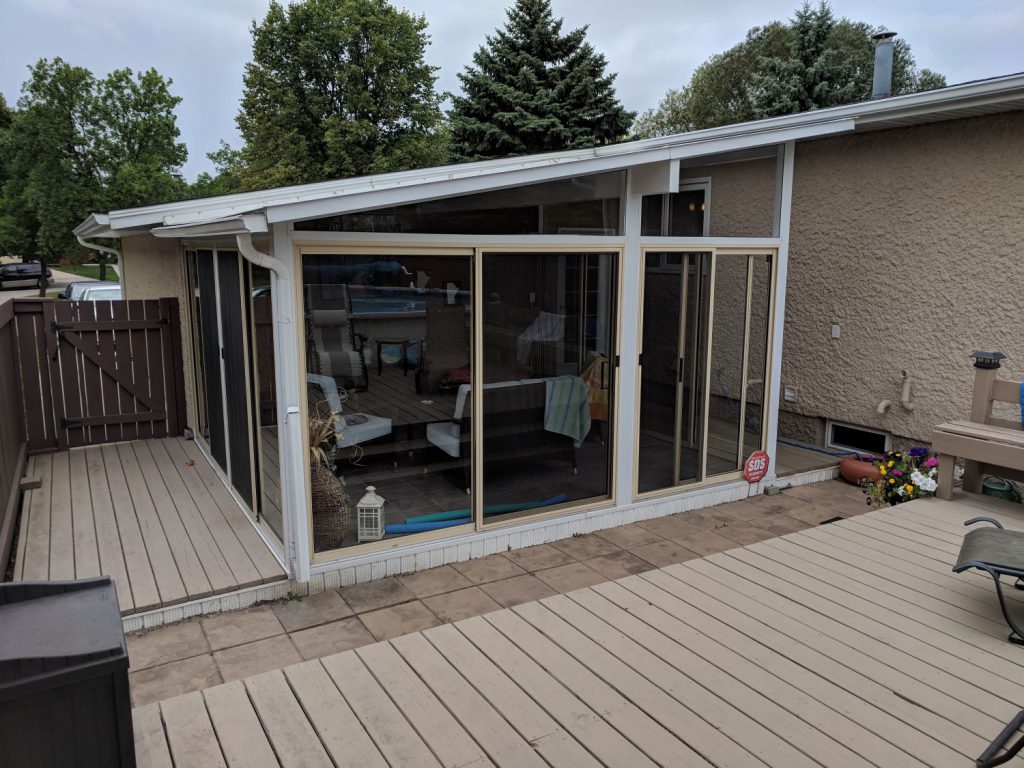 We cannot begin to tell you how great this company is – we had a sunroom installed approx 10 yrs ago – we noticed the door was not closing properly thought it just needed to be jacked up a little in one corner – when Roger came to take a look – he realized that the company that originally installed the sunroom did not use piles, and not only that, they had used the wrong wood – and the wood had rotted (which he showed us – you could pull the wood apart with your fingers!!, and the sunroom was sinking in the middle – Roger and his crew came and took the sunroom apart – worked very hard at keeping all of the glass and doors (and succeeded) – so that they could be reused, and rebuilt the sunroom – they did an excellent job, always cleaned up after themselves, the plan was to have it completed by early spring so that we could use it this upcoming summer – instead, they had it completed by the end of December…Excellent Work, we cannot thank you enough for what you did, and the fact you kept a lot of the material in order to save us some money. Thank you again to you and your crew.
Not enough stars to describe how we feel about the work done by this company. Not enough room to express our gratitude for your expertise, workmanship, and ability. We absolutely enjoy our sunroom.
I highly recommend backyard paradise to build you a backyard paradise.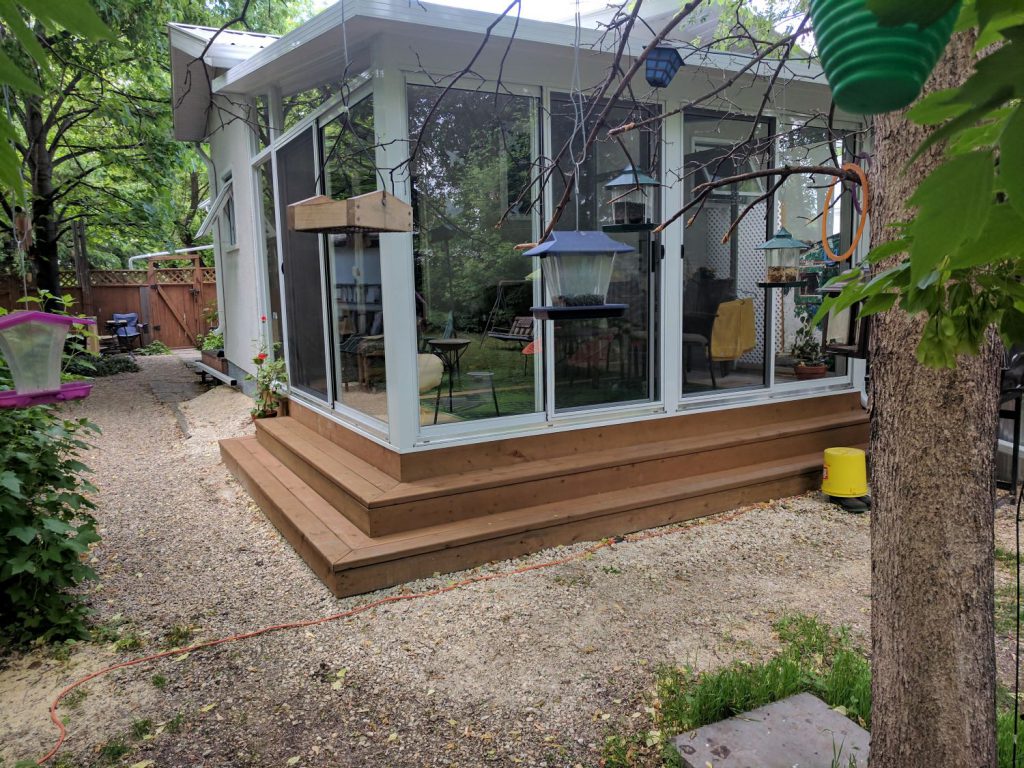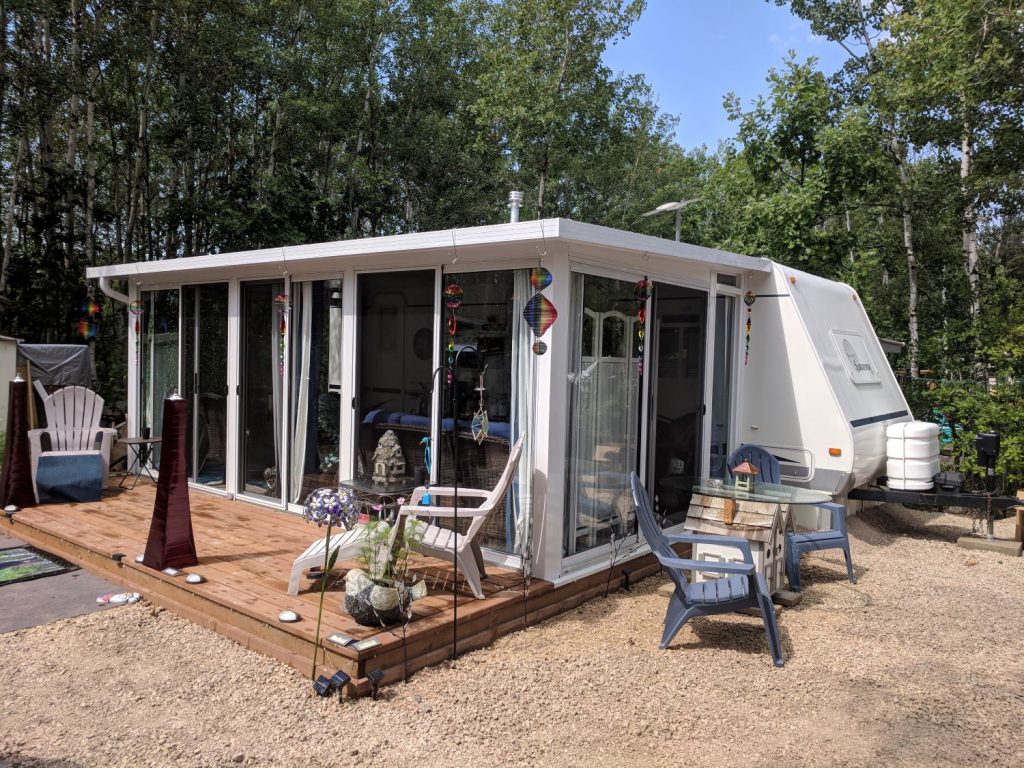 September 26, 2018 by Dianne
Love the Sunroom Roger. You have a wonderful crew too…. Patrick, Brandon and Mike. Things started off slowly, but you pulled it all together. Lin and I enjoyed the company too. It's great to be able to walk out of the trailer and into the sunroom and not have to worry about all the mosquitoes, even if there weren't too many this year. I love sitting inside and watching a good lightning show now too. You and your crew have a great work ethic. Next year while eating a bowl of cherries, I'll be thinking of you and the crew and the good laughs we had too. Great company, great work!!!!
September 21, 2018 by Lynn And Denis
We are anxiously awaiting the delivery and install of our new sunroom in early October. We cannot say enough good things about dealing with Roger. He has been very professional and accommodating. He has answered all of our questions and has gone beyond what we expected. We can't wait for our dream sunroom to become a reality!